Beware of Scammers Using ARC's Name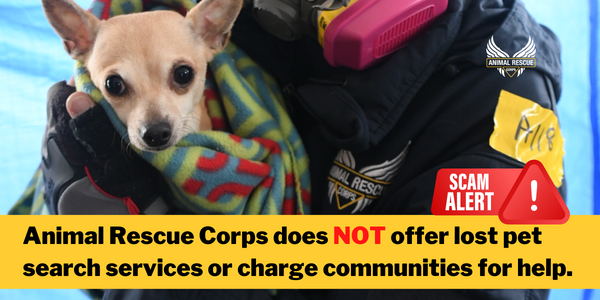 Have you received a message claiming to be from Animal Rescue Corps to offer support with finding a lost pet?
Don't be tricked! Animal Rescue Corps does not offer lost or missing pet search services, and we do not charge communities for our help. We are aware of scams misusing our name. Don't ever provide payment or your bank details to any WhatsApp or other messages claiming to be Animal Rescue Corps and asking for a fee to help find your companion animal, and please immediately report their profile(s) to the platform(s) they contacted you on.
Their efforts are intended to convince you to send money to the scammers, who use Animal Rescue Corps' name and sometimes our logo because it sounds legitimate, and they are attempting to take advantage of caring people.
Examples of tricks used by scammers:
"We are Animal Rescue Corps Search Team."
"We specialize in tracking and recovering lost pets and use highly trained K9s to follow scent trails."
"We have thousands of search hours and have reunited hundreds of pets with their homes."
"We are the most experienced Missing Pet Search Team in the US."
***The above examples are not an Animal Rescue Corps program and we do not charge fees to the communities we help.***
Remember, when you post on public message boards, you may encounter well-meaning members of the community trying to help, but you may also encounter disreputable scammers taking advantage of situations like desperate guardians searching for missing companion animals. Please use caution and don't be tricked, and always feel free to contact Animal Rescue Corps through our website contact information to verify directly when ARC's name is being used. Be safe!
Animal Rescue Corps protects animals through large-scale rescue, shelter relief, and education & training. The below are legitimate Animal Rescue Corps programs.
Emergency Rescue
Animal Rescue Corps was founded as a nonprofit on November 17, 2010, to address an underserved and neglected need: every day, animals suffer in situations of large-scale cruelty in places that lack the expertise and resources to save them. These animals can suffer for years or even generations. Animal Rescue Corps conducts large-scale rescues – meaning rescuing large numbers of animals at once – from abusive and neglectful situations like puppy mills, hoarding, fighting rings, exotic animal cases, and more, as well as from natural disasters such as floods, tornadoes, hurricanes, blizzards, and more.
As part of our rescue work, we also conduct investigations, collect and document evidence, detail medical findings, and provide expert testimony for any legal hearings or criminal trials related to the case. Through every step of the journey, Animal Rescue Corps is a trusted partner to the animals, law enforcement agencies, and communities we serve. We provide compassionate, professional, and effective partnerships to ensure positive outcomes whenever and wherever large numbers of animals and their communities need.
Shelter Relief
North America faces an inequitable distribution of animals available for adoption and demand for adoption. ARC's Shelter Relief Program intakes animals from overburdened shelters, especially in the south and southeast, where many animals are at risk of euthanasia immediately after hold times are up or, conversely, can be warehoused in kennels in low-adoption areas for years with little hope of placement. We provide complete medical exams, vaccinations, and health certificates, and we care for the animals until we match them with our network of placement partners in high-adoption regions.
ARC's Shelter Relief Program also provides community support in many other forms, including providing food and supplies, sending volunteers to assist with a crisis or a day of action, providing assistance with cruelty and neglect cases, and building and strengthening networks across the animal protection movement.
Education and Training
At Animal Rescue Corps, education about animals is interwoven into every aspect of our work. We raise public awareness around the plight of animals through solutions-based education designed to increase knowledge of animal issues and amplify compassion, respect, and positive interactions with animals. We also offer training to law enforcement, shelter professionals, and civilians, teaching them to effectively, safely, and responsibly bring aid to animals in peril.