30+ animals being seized in neglectful backyard breeding operation
Animal Rescue Corps has deployed for the third time in eleven days, responding to an urgent request for help from law enforcement in Macon County, TN. Yesterday an animal control officer, responding to an anonymous tip, found a backyard breeder with multiple large-breed dogs, Great Danes and others, living in severely neglectful conditions along with seven cats and two chinchillas.
ARC immediately assembled our Field Team and deployed. Every single large-breed dog, cat, and chinchilla is being seized.
Two state-licensed vets, part of ARC's Field Team, have identified multiple cases of cherry eye, mammary tumors, granulomas on paws and legs from pressure sores, and other conditions consistent with unsanitary housing, neglect, and inadequate veterinary care.
Bred for profit from this small cage.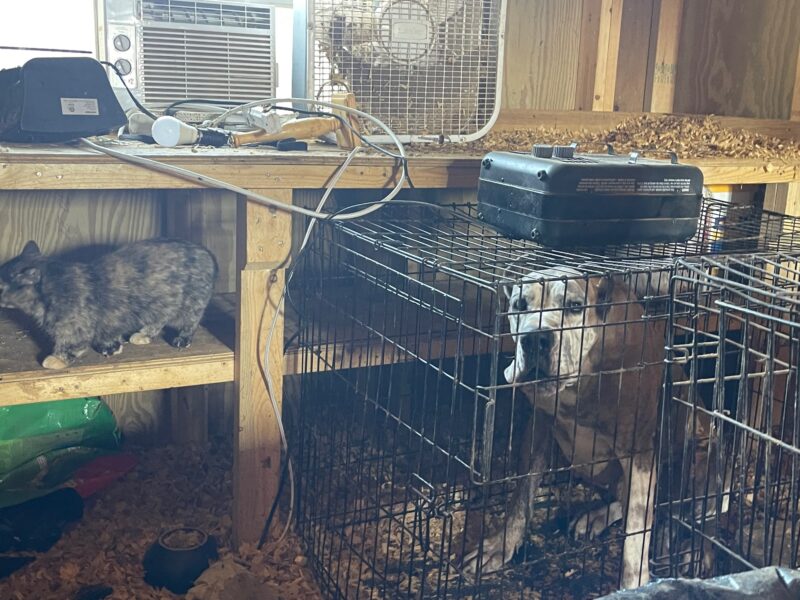 Poppy is one of the dogs living in the small shed with the highest ammonia levels. Used as a breeding mother, she is unable to even stand in her small cage. She has been used by the backyard breeder for profit, with no regard for her needs, her wishes, or her comfort.
Deploying three times in eleven days to rescue large numbers of chronically neglected animals who are in urgent need of medical, physical, and emotional care takes a lot of resources, and ARC's Rescue Center already has over 140 residents — but we could not say no to this urgent situation, and are trusting that ARC's dedicated and caring supporters will join us in stepping up to help Poppy and the others.
Operation Gentle Giants: Cruel Backyard Breeding
The Great Danes and other large-breed dogs here have been used and bred for profit, with no regard for their wants, wishes, needs, comfort, or health. Indoors, many of the dogs live cruelly caged. Some are packed in small cages together. Most are in cages too small to stand up, turn around, or spread limbs freely. In the shed on the property, with many caged dogs inside, ammonia levels are over 200ppm, an extremely dangerous, irritating, and corrosive quality of air. Outdoors, many of the dogs lack inadequate shelter from rain, cold, wind, hot sun, and other weather, and are also living in filthy, neglectful conditions.
Cruelty Case Seizure
ARC will provide urgent medical, physical, and emotional care to these dogs, many of whom are also terrified, and will document the cruelties inflicted on their bodies for evidence packages in legal proceedings. As the animals are ready, our placement team will individually match each one with our network of vetted placement partners and bring them as far as they need to go to get there… and they will finally find the loving and caring homes they have always deserved.
Jasmine is another neglected, breeding mother. She has been living outdoors and suffering from a highly inflamed, dual, and untreated prolapsed gland of her third eyelids (cherry eye).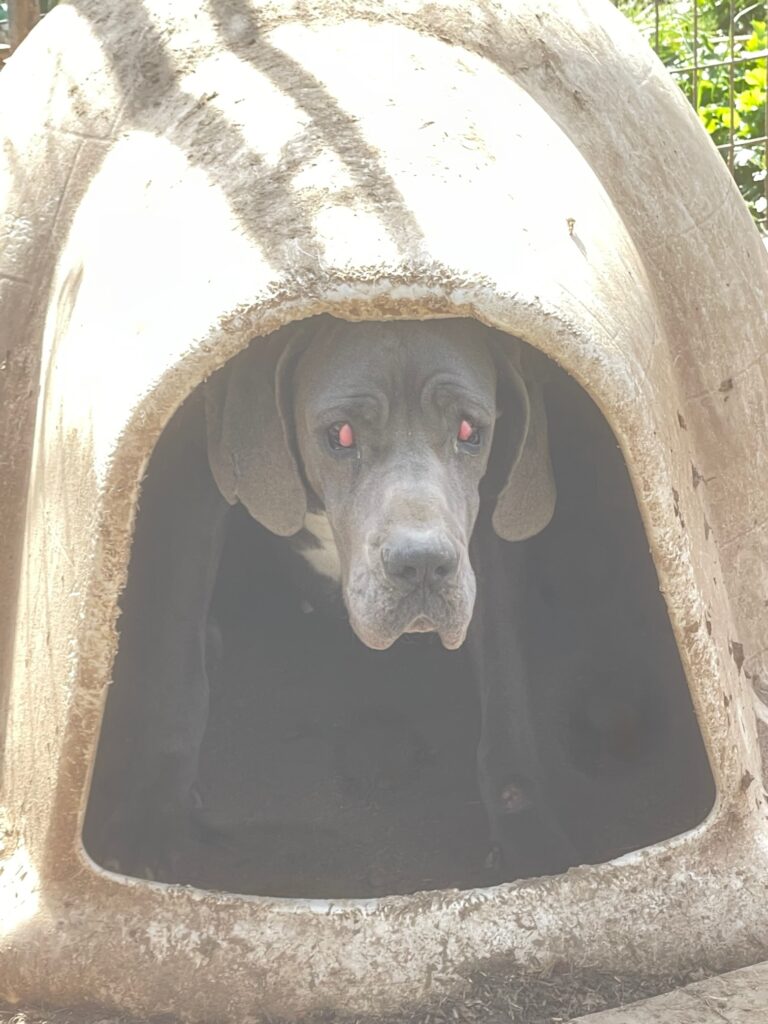 Animal Rescue Corps is powered by the compassion of caring donors, volunteers, and supporters like you.
If you've cared for any kind of an animal, let alone a neglected animal, you know: it takes a lot of resources to help animals like Jasmine and Poppy. Here at Animal Rescue Corps we, like you, believe that money should never stand in the way of saving a life. Show these dogs and animals like them that you are in their corner with a gift today.