On January 17, 2022, Animal Rescue Corps received an urgent call for help from law enforcement in Carroll County, Tennessee.
27 dogs were in and around a home filled with packed-down animal waste, high levels of ammonia, and dangerous clutter. The dogs were underweight, many with eye ulcers and untreated injuries, most badly matted, some pregnant. They needed rescue immediately.
This was Operation Infinite Hope, falling both on Martin Luther King, Jr. Day and the Betty White Challenge.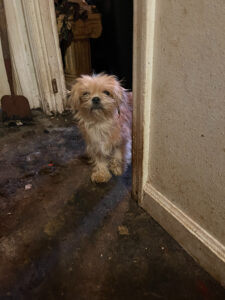 Because of help like yours, Animal Rescue Corps rescued every dog in that home that day, obtaining a surrender for the dogs from the property owners and rushing the animals to our Rescue Operation Center for urgent medical, physical, and emotional care.
Thanks to you, their futures are bright and filled with hope..