Emergency Animal Rescue: ~40 hoarded dogs, cats, and birds
The situation came to light after the property resident died. Left behind were 10 dogs, 9 cats, and nearly 20 exotic birds. Many were living in unkempt, small cages. Few had any individual care.
Once the relatives learned of the situation, they sprung into action, reaching out for help for the animals. But no one, not even local animal control and authorities, could help.
Large-Scale Rescue.
Animal Rescue Corps exists to help animals in situations just like this one. Animals in large numbers who are victim of hoarding, puppy mills, disaster, and more —  emergency animal rescue situations that are far larger than the local community's resources.
This situation was urgent. Everyone was running out of time. So ARC deployed.
Operation Fall Freedom: nearly 40 dogs, cats, & exotic birds.
This is Operation Fall Freedom in Nashville, Tennessee. The animals here have lost what little normalcy they once had, and are badly in need of individual medical, physical, and emotional care.
The little dog Angelica
Angelica is one of the ten dogs. She has an eye issue and at least one large tumor that pulls at her skin.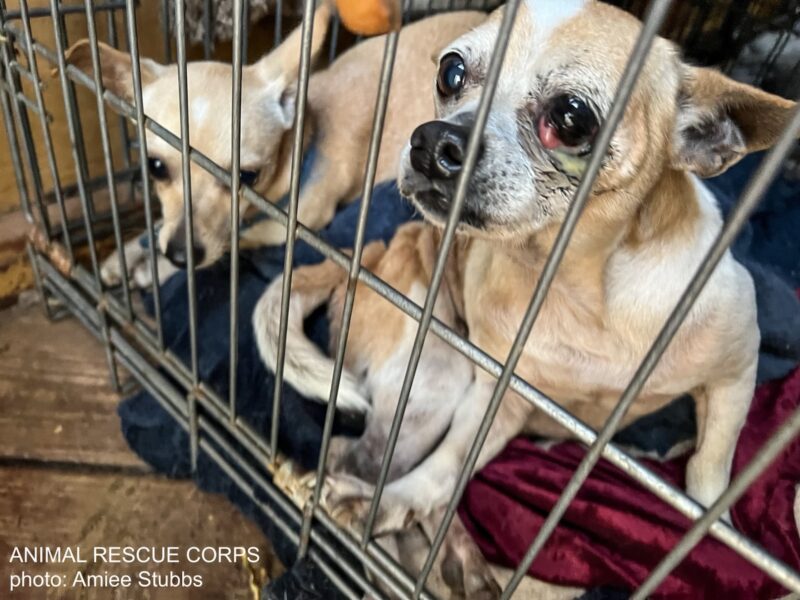 Because of the help of donors and volunteers like you, Animal Rescue Corps is on-scene to rescue these animals. Many of the birds are bonded, breeding pairs, making their rescue especially delicate. ARC will safely extract the animals and transport them back to the Rescue Center outside Nashville, Tennessee, where the animals will each receive individual medical, physical, and emotional care. Once the animals are ready, our placement team will individually match each one with our network of vetted placement partners and bring them as far as they need to go to get there… and they will finally find the loving and caring homes they have always deserved.