Emergency Rescue: 20+ loving cats left behind
When a tenant was evicted in rural Page County in Virginia, they moved out.
But — they left behind 20+ loving cats, including many tuxedos, calicos, seal points, and — heartbreakingly — even many senior kitties.
Emergency Rescue.
The cats were on their own for several weeks before, fortunately, a local rescue group, Page Paws, learned of their plight. They made sure the cats had food and water, and kept lines of communication open with the landlord. They even placed several of the cats. But, in this rural Virginia community, the ability to care and place this many cats all at once was a major challenge… and the clock was ticking as the landlord prepared to rerent the home and needed them off the property now.
So when Page Paws reached out for help with the remaining 16 cats, Animal Rescue Corps was quick to say yes. ARC was founded to help large-scale emergency rescue situations like this one — situations of large-scale animal abandonment, neglect, or cruelty that are beyond the capacity of local communities.
Pumpkin's Emergency Rescue
Just one of the 16 cats is Pumpkin, a loving, scraggly, eldercat.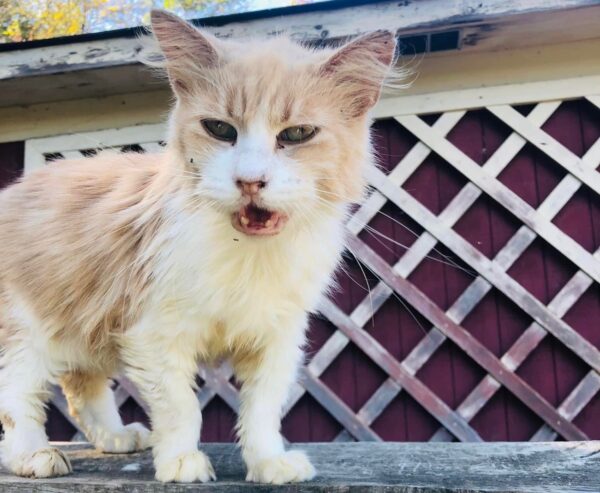 She and the others have been waiting for their person to come back. But their person, the tenant, is gone. They left their family, these animal companions, behind.
Animal Rescue Corps is providing urgent medical, physical, and emotional care for these abandoned cats at our Rescue Center outside Nashville, TN. Once these wonderful kitties are ready, our placement team will individually match each one with our network of vetted placement partners and bring them as far as they need to go to get there… and they will finally find the loving families that will never leave them behind.
This is Operation Halloween Help, falling on Halloween weekend. It's a time of festivity for many, parties, trick or treating — but these cats received the ultimate rotten trick before the holidays. Thanks to Animal Rescue Corps' caring donors and volunteers, who step up time and time again for animals in need, Pumpkin and her friends can get the sweetness and second chance they deserve.