This past year, as the pandemic rolled across the nation, devoted ARC volunteers worked even harder under increased safety protocols to keep one another and the animals safe. Even as doors closed everywhere, we've been able to keep the doors to our Rescue Operation Center open, ensuring that once neglected, abused, and traumatized animals have a safe place to land, recover, and start their new lives.
Volunteers of ARC, we salute you! Bernice is just one of the many volunteers we celebrate today.
Bernice was always a bit nervous around chihuahuas. Despite their very small size, she rightfully noticed that these small but mighty creatures pack a powerful bark! Bernice instead gravitated towards big dogs.

Very big dogs!
But then everything changed for Bernice, and, in turn, she changed the lives of a whole lot of chihuahuas.
Last summer, ARC was contacted by a Tennessee sheriff. His officers had just located a scene of appalling cruelty: over 600 animals on a property where the property-dwellers even kept their own child caged. When we arrived, it was a heartbreaking scene. Your help powered us through it.
Odette lived in a wire kennel with other dogs. She couldn't get adequate exercise, let alone the joy of walks or runs. She had no bed, no relief from cold rain or sweltering heat. Waste surrounded her and its smells overwhelmed her sensitive nose. If and when they were fed, food was thrown in from above, and she and her cage-mates would have to fight for what they were given. They never knew when another meal might come. They didn't know that humans could also be kind. Most were terrified. This was Operation Caged Hell.
Because of your help, ARC rescued well over 600 animals that day. 65 were dogs, many of whom were chihuahuas. We brought them back to ARC's Rescue Operation Center to provide them with physical, medical, and social care, and documented the cruelty, providing expert evidence packages to the sheriff's office for legal proceedings.
The animals were cared for daily by caring volunteers, including Bernice… and that's when Odette and the other chihuahuas started winning Bernice's heart.
As Bernice says, "Many of these dogs had not been socialized, so it was a difficult process to gain their trust. Within days, those snarls were soon replaced with tail wags and kisses. Instead of retreating to the back of their crates when we approached, they leapt into our arms.
"To know you could make such a difference in their lives in such a short period of time was priceless!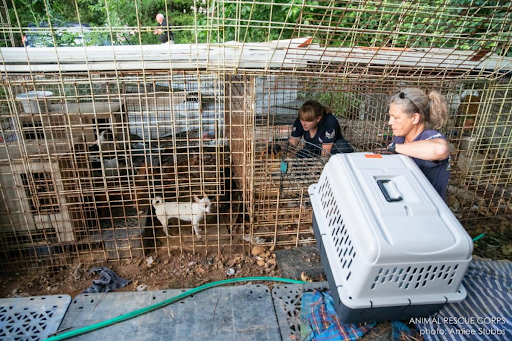 "I knew, from that day forward, they would have an opportunity to find their furever loving home. They deserve that, and so much more!"
Once Odette was cleared for placement, we matched her with a trusted placement partner, the Humane Society of Sarasota, an over 1500 mile round trip so she could start her new life in a high-adoption region.
Odette became a Humane Society favorite. Thanks to ARC volunteers, Odette had quickly learned that humans could also be kind. She was sweet and trusting and always excited to see people. It didn't take very long for someone to fall in love with Odette, and she was adopted.
Now named Odessy, her life has been transformed. She and her new mom are inseparable, and incredibly bonded to each other. Odessy is her mom's little shadow and follows her everywhere she can. They love to snuggle on the couch together, take long afternoon walks, and end each day cuddling together in a warm, soft, clean bed.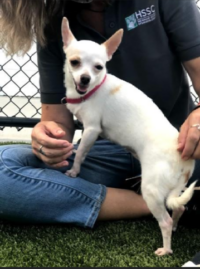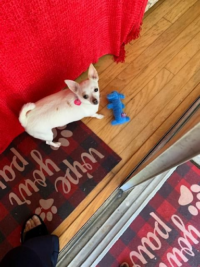 Odessy's mom says, "I fell in love with her the moment I saw her, but my love for her has grown tremendously with each passing day."
The way it always should have been! We're so happy for Odessy, and grateful to you and all the other Animal Rescue Corps donors and volunteers for making her new joy possible. Her life has done a 180, and that's the gift you give.
And as for Bernice and chihuahuas?
Bernice tells us, "Since that experience, I now have the confidence and a huge place in my heart for these beautiful small creatures…
"Being a Volunteer with ARC is truly an honor. To be part of an organization that strives for the well-being of sometimes unimaginable circumstances of animals in dire straits.
They are the voice of the voiceless."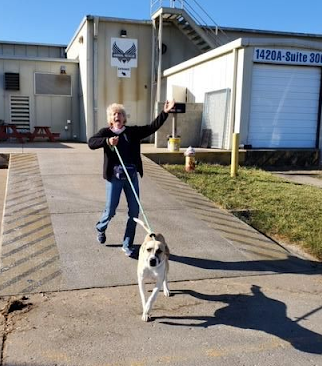 We send so much gratitude to you, to Bernice, and to the rest of the ARC family — because when animals like Odessy (nee Odette) are in their hour of desperate need, it's you who are our wings.
Thank you, from the bottom of our hearts.
We are always in need of volunteers at ARC. We regularly have opportunities at our Rescue Operation Center in Tennessee, and we often have national opportunities, too…
Join our volunteer list today to stay informed about opportunities by you!