Emergency Rescue: 50+ hoarded dogs & cats
Animal Rescue Corps is on the ground, responding to an urgent call for help in the small Nashville suburb of La Vergne, TN, thanks to a tip-off and coordination support from the SPCA of Tennessee.
Around 48 dogs and 5 cats have been living in severe neglect. Many of the dogs are inhumanely caged, living in cruel confinement and toxic levels of ammonia fumes. Even the dogs outdoors are chained and caged.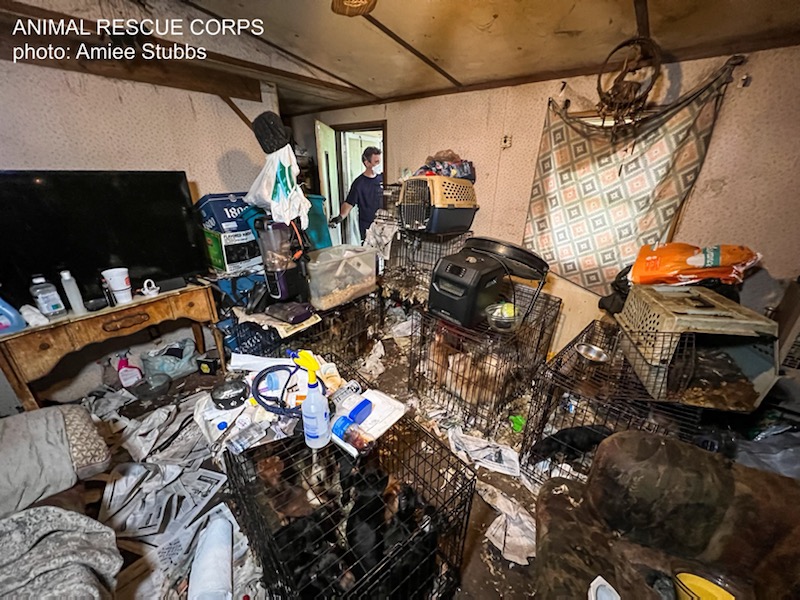 A Deadly Situation.
The dogs show signs of long-term neglect and overcrowding, including bite wounds, fighting, parasites, and serious untreated conditions. A dog was deceased on Animal Rescue Corps' arrival, killed by her cage-mates in a crowded cage. Dogs were caged up to ten dogs in a single, small cage.
Animal Rescue Corps exists to help animals in situations just like this one. Animals in large numbers who are victims of hoarding, puppy mills, disaster, and more —  emergency animal rescue situations that are far larger than the local community's resources.
This situation was desperate and required immediate intervention. ARC deployed right away.
Operation Daylight Save: 50+ neglected dogs and cats
Button
Just one of the 48 dogs is Button, an elderly and blind dog who should have been receiving special care but has been made to live all alone in a filthy cat carrier.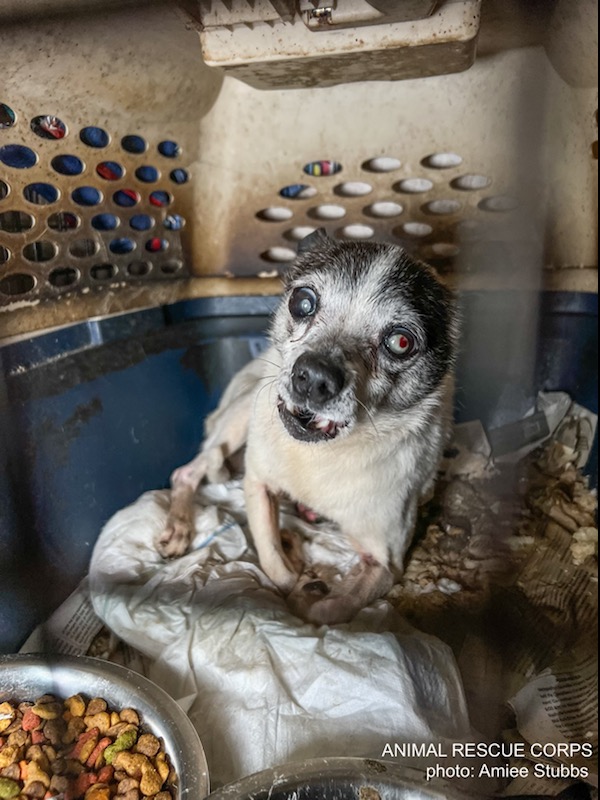 Emergency Rescue & Second Chance
The elderly property owners have surrendered the animals. The dogs and cats are all being safely extracted and brought to ARC's Rescue Center outside Nashville, TN, where they will receive urgent medical, physical, and emotional care. Once the animals are ready, our placement team will individually match each one with our network of vetted placement partners and bring them as far as they need to go to get there… and they will finally find the loving and caring homes they have always deserved.
When you donate today to help the neglected dogs and cats of Operation Daylight Save and all of ARC's work to protect animals, you will ensure that these animals don't lose one more hour of their lives — or their lives — to this suffering.