Rescue Run: 3 ways to get involved for animals
Running… it's such a simple thing. And yet, so many of the animals we rescue have never known the joy of being able to stretch their legs and feel the wind in their fur.
Here at Animal Rescue Corps, we work with you to end suffering and to give animals their joy back.
It's Rescue Run season, and there are three great ways to give back to the animals who give us so much — from wherever you are — as we lead up to Thanksgiving.
1) ARC's Thanksgiving Day Rescue Run in Tennessee
Thursday, November 24th, Thanksgiving morning in Mount Juliet, TN. Fun for the whole family!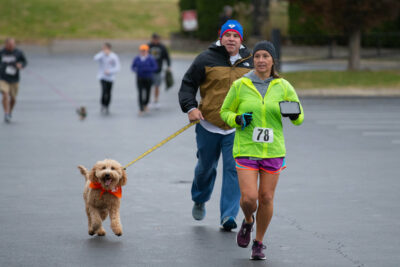 If you are near Middle Tennessee or plan to visit for the Thanksgiving holiday, ARC's Tommy Crockett Memorial Rescue Run at Two Rivers Ford is not to be missed!
Run, walk, or dance this Thanksgiving morning in a 5k or 1-mile Fun Run to stop animal cruelty and to protect animals.
This is a great opportunity to support animal protection with like-minded animal advocates, enjoy some fresh air and movement before the big Thanksgiving day meal, and change the lives of animals.
Register by November 13th to guarantee your 2022 race shirt with registration.
2) ARC's Rescue Run Virtual Facebook Challenge
Can't be there in person? You can still make big waves by joining ARC's Facebook Rescue Run Challenge. Create a Rescue Run Challenge fundraiser and invite your friends, family, and networks to join you in taking their next step for animals while you pledge to walk, run, or roll 30 miles in November.
Everything you raise will go toward helping animals and ARC's $10,000 Rescue Challenge goal — plus you can get off the couch while you inspire and educate others into compassion in action for animals.
It takes less than two minutes to get started today!
3) Donate for the Rescue Run Challenge

Donate for rescue and be part of the unstoppable compassion in action to save lives and help the ones who need us most. Your tax-deductible gift will go directly to ARC's mission of animal protection and you will change the lives of abused and neglected animals.
That's something to run toward! Donate today to save a life.
We are their rescuers
Together, we can create an unstoppable momentum of compassion for vulnerable animals in need.
No matter how you show up for rescue in this year's challenge, you will make a personal and powerful difference in the life of an animal who needs you today.
Thank you for being the rescuer that animals need and for giving them their joy back.